Zero Waste Wedding, Let yourself be inspired by the wedding soap!
In her blog article Alexa Bachmann, photographer and blogger from goldstueck-heidelberg.com shares her inspiring experience for zero waste charming weddings and personal gift in a beautiful inspiring article ..
Fragrant little give-aways, Where do they come from and what advantages do they have?
Today's blog article is especially close to my heart. I have attended too many weddings and have seen some inspiring concepts, decorations, floristry or catering. As different as the bridal couples are, as different is the celebration type and All the hosts have one thing in common, They want their guests to feel comfortable and enjoy themselves. It should be a harmonious and intimate friendly celebration and maybe you also want to convey a message!
Today, and as consumers we all should share the feeling of responsibility towards our selfs and environment, The wedding is a wonderful occasion to choose products with philosophy and background. You may already have guessed it, it is all about Zero Waste Lifestyle. It is about handmade beauties that promise environmentally friendly and responsible use of resources and animal welfare. You think that doesn't fit on a wedding and sounds unromantic? Not at all! BE Inspired…And give a Noble soap as a wedding present!
In some parts of Syria it is an old tradition to send a piece of soap in a box to your wedding guests, This used to be considered as a caring friendly invitation to dress up and get to the wedding,
The first requirement for beautiful host gifts is that they must have something to do with you. They must be personalisable. Have your initials or even a small branding printed on your guest gifts.
Noble Soap produces a wonderful little soap based on olives and laurel oil. A beautiful and particularly natural fragrant solution as a personalised guest gift and those small soaps can be printed with your initials and are very trendy with their recyclable and wonderful design packaging.
That's why you give soap as a wedding present! who said some traditions cant be inspiring..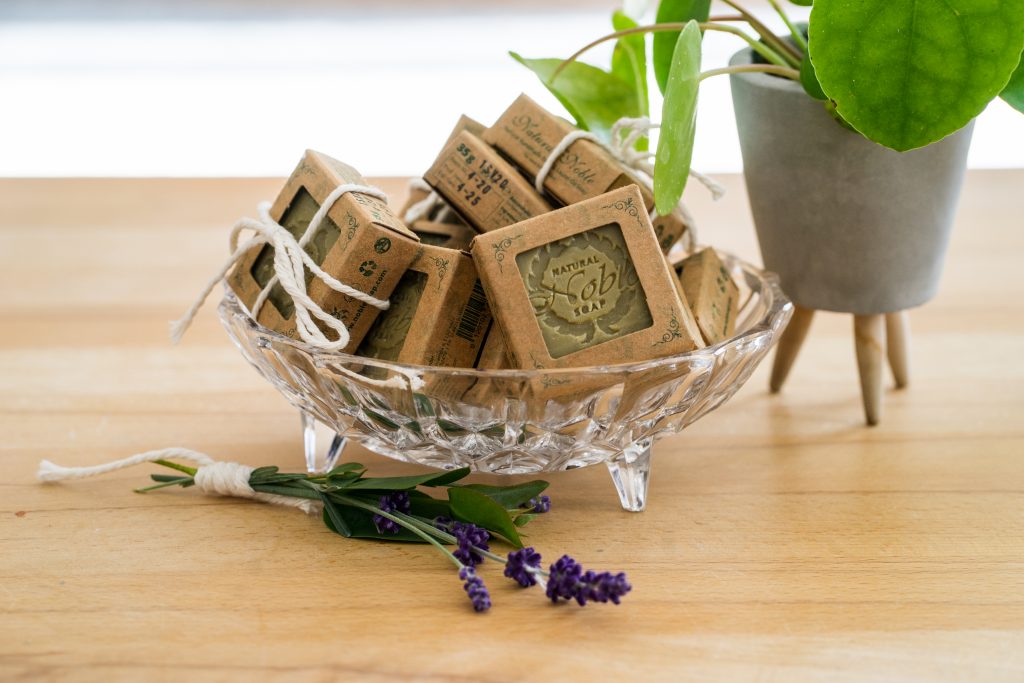 Wedding Trends and exhibition gift items
Imagine the small kraft paper packages on the tables. Is your wedding concept the popular Greenery, Vintage, Burgundy or Boho Glam? Are you more classic, romantic and timeless? The little soaps fit perfectly into different concepts and leave a fresh note in your location.
As a wedding photographer, why do I choose a soap as a goody for my customers?
basically I wanted to be inspired and inform you that there are beautiful alternatives to traditional (and already a bit boring) wedding almonds. There are alternatives to salt and pepper or mini bubbles.
During my research for inspiration I came across NobleSoap.com and I noticed that I could find soaps, but not in the quality and look that Noble soap offers in their online shop. Moreover, it is a family business and a real traditional environmental craft
No palm oil is used in the production process, the product is made of recyclable materials and is therefore completely free of plastic. When I opened the package of Noble Companion Soap, I was first impressed by the scent of the soaps. My stand at the trade fair had a wonderful scent of olives and laurel. I was particularly pleased that I was able to give them as a gift to my trade fair visitors.
Read the full article in Alwxa's Blog Page goldstueck-heidelberg